Car crashes are frightening experiences. If you're in a road accident in GA, you should always call the authorities right away. One of the reasons why it's so important to call for help is the accident report, or crash report – but what do these reports reveal?
Below, we explain whether accident reports in Savannah GA confirm fault and why this matters.
What Is A Georgia Accident Report?
Accident reports explain what happened to cause a crash in Savannah GA. The police officer attending the scene completes the report based on the evidence available.
You can send a police report to your insurance company as part of your claim. You might also use it if you wish to file a civil lawsuit for personal injuries.
Accident reports are not definitive. Although they can help to prove an accident claim, they're considered alongside other evidence.
But do Savannah GA accident reports reveal who is at fault for a crash? Let's consider this question.
What Accident Reports in Savannah GA Contain
Reading Your Crash Report
Accident reports follow a certain format. This makes it quicker and easier to find key information within the report. The most significant parts of the report are:
Officer's narrative: This section sets out, in the officer's words, what happened. This is compelling evidence when it comes to proving fault.
Accident diagram: The diagram helps insurance companies and attorneys visualize the scene. This may help when it comes to determining fault.
Contributing factors: Contributing factors include factors beyond your control such as the weather. However, they also include potentially negligent acts, such as running a stop sign, speeding, or distracted driving.
Your report will also note if the other driver fled the scene or if the officer issued a ticket for e.g. a DUI.
Do I Need a Report After an Accident in Savannah GA?
Not always. However, you must report a crash if:
Someone is injured or killed at the scene.
The crash caused property damage, or personal injury, worth $500 or more.
It's not always legally necessary to report very minor bumps such as fender benders. However, injuries can take a while to manifest. And property damage is tricky to quantify at the scene. It's always worth playing it safe and reporting a crash to the authorities.
Are there consequences if you don't report a car crash in Savannah GA? Possibly. Failing to report injuries – or even fatalities – can be considered a "hit and run". This can result in criminal charges, fines, or license suspension. In serious cases it may even lead to jail time.
Don't take chances. Call the police after a crash – they'll tell you what to do.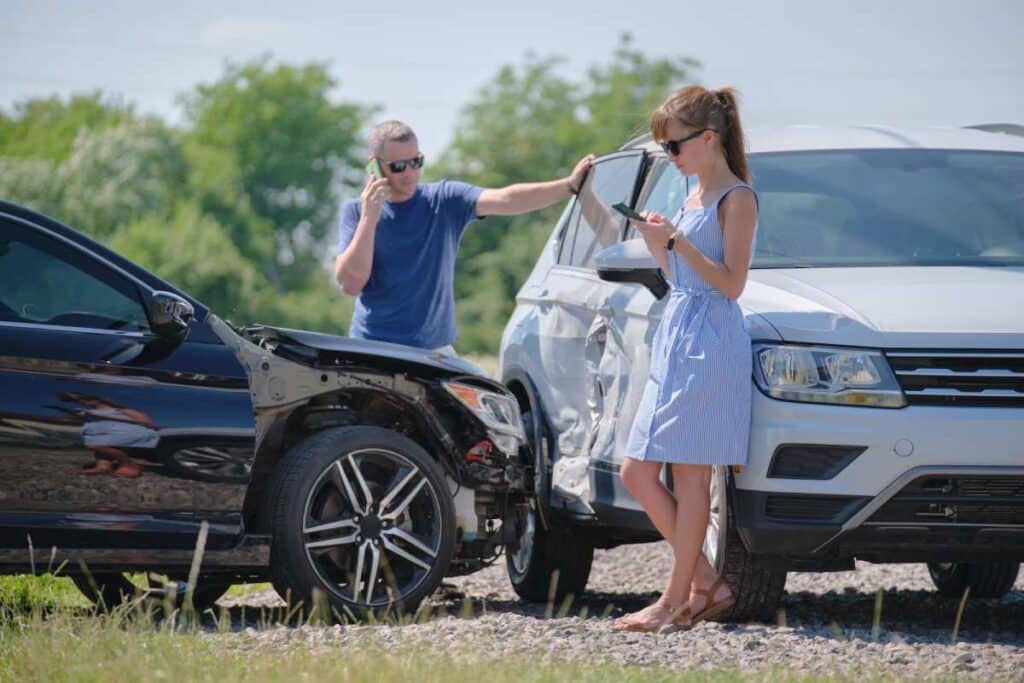 Do Georgia Accident Reports Tell You Who Is At Fault?
Savannah GA accident reports do indicate who is at fault. Although the answer is not definitive, a police officer's version of events is highly compelling evidence.
Sometimes, a driver even admits fault at the scene. This will be noted in the report and it's very difficult for the driver to recant this statement.
How Is Fault Determined?
It's not always easy to prove fault, even for lawyers or police officers. Proving fault often means relying on evidence such as:
Accident report
Dashcam footage
Eyewitness testimony
CCTV footage
Vehicle position
Road debris
For example, say you wish to prove that the other driver was speeding. Skid marks and significant property damage might help to prove your case. Or, say you want to show that another driver failed to yield. The position of the vehicles on the roadway can prove which car caused the crash.
Does It Matter Who Caused the Crash?
Absolutely. Why? Because Georgia is an "at-fault" state.
In at-fault states, the driver who caused the crash is responsible for paying damages. Meaning, the at-fault driver must pay for costs such as:
Property damage
Medical bills
Rehab costs
Funeral expenses (if a victim dies due to their injuries)
The driver does not pay for these costs from their own pocket. Instead, their auto insurance provider covers the cost. That's why auto insurance is mandatory in Georgia. Otherwise, it would be much harder for victims to get the financial support they deserve.
When Both Drivers Are at Fault
In some cases, both drivers played a part in causing the crash. In GA, you can still claim damages if you're less than 50% responsible for the accident. If you're 50% or more responsible for the crash, you can't claim damages from the other driver.
How do you prove who is "more" responsible? That's where an accident report can be invaluable. The police officer's narrative, and the evidence from the scene, can indicate who is mostly to blame.
Benefits of Having a Car Crash Accident Report
There are various reasons why you should always obtain a crash report after an accident in GA.
Georgia is a fault state. Your accident report can help to prove which party is responsible for compensating the other.
Having a crash report may help to expedite the claims process. It can allow insurers to process your claim more efficiently.
You might be legally required to report a crash and obtain a report. Failing to do so could result in penalties.
Even if you didn't technically need a crash report, having one shows your commitment to being a responsible driver.
If you're unsure whether to obtain a crash report in Savannah GA, err on the safe side. Call the authorities and get a crash report.
Get Your Savannah GA Accident Report Now
If you're in a car crash, then you may need an accident report. In many cases, it can help you prove why you're entitled to damages or compensation. But how do you obtain a copy of your report? Our team makes it simple.
At Auto Accident Report, we can help you get your Savannah GA crash report quickly – and for free. We can also connect you to a lawyer and/or medical expert if you require evaluation.
To learn more about our services, contact our friendly team or get started now!