If you're involved in a crash in Orlando, Florida, you may need to complete a car accident report. However, before you complete your report, it's crucial that you know what to say – and what not to say. Below, we explain what you should avoid saying in Orlando car accident reports to ensure you're protecting your best interests.  
What Is a Car Accident Report in Orlando, Florida?
A car accident report, or traffic crash report, sets out what happened to cause a car crash. It contains basic details such as:
Personal information for parties involved 

Witness information

Date and time of the accident

Make and model of the vehicles involved
Your insurance company can use the report to determine who caused the accident and how much the claim is worth.     
Is a Self-Reported Accident Report the Same as a Police Report?
Not quite. Police officers complete a police crash report if they're called to the scene of a collision. This is usually when anyone is injured, there's property damage of over $500, a driver flees the scene, or there's a possible driving offense e.g. a DUI.
You can sometimes complete your own accident report without involving the authorities. Your insurance company may also require you to fill in paperwork describing what happened. 
When Should I File My Own Accident Report?
You can self-report a car accident in the city of Orlando if there's no significant property damage or bodily injury. In other words, if you don't need to call law enforcement, such as for a minor fender-bender, you can complete your own report. 
Typically, you can file your car accident report online in Orlando, Florida. However, if you're in any doubt, call the police. Their report can be extremely helpful, especially if you plan on making a compensation claim. We can help you get a copy of your report from the Orlando Police Department – contact us to find out more. 
How Long Do I Have to Complete a Report?
According to Florida statutes, you have 10 days from the date of the accident to complete and file your accident report. In any case, it's best to complete your report as soon as possible while the details are still fresh in your mind. 
Are There Penalties for Lying in a Car Accident Report?
Sometimes, yes! If you lie or make false statements in Orlando car accident reports, then your insurer might refuse to pay out the claim. This means you will be responsible for covering the costs of property damage from your own pocket. 
There's also a chance that the other party may sue you for personal injury compensation. You may then be responsible for paying the damages yourself if your insurer denies your claim.
It's a criminal offense to knowingly lie to police officers – you could face charges if you deliberately give officers false information.
What Not to Say in Orlando Car Accident Reports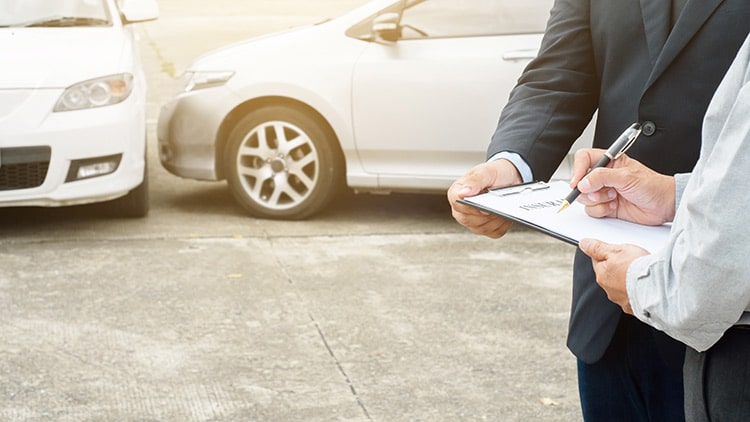 Before completing your accident report, here's a rundown of some tips to bear in mind.
Don't Admit Fault
Admitting fault could invalidate your insurance claim before it gets started! If you say that you caused the crash, then you're damaging your chances of getting the compensation you deserve. Insurance companies can determine who caused the crash, and your degree of responsibility, by evaluating the facts. 
Even if your insurer determines that you were at fault, the other driver may also be partly to blame. Simply set out the facts and let your insurer reach the appropriate conclusion. 
Do Not Say You Caused Damage
Saying you caused damage – whether that's property damage or bodily injury – suggests that you're at least partially to blame for the crash. All you need to do is list the damage you know of. You may also take photographs or videos to support your position.
Don't Make Apologies
Apologizing implies that you were somehow at fault for the accident. So, even if you don't admit fault, making apologies can be just as problematic. Set out the facts only and let your insurance company evaluate the claim. 
Do Not Say There Are No Injuries
It's never advisable to say there are no injuries right after a car crash. Some injuries, such as head injuries, take a while to manifest. And other injuries, such as what looks like minor bruising, may turn out to be more serious once a doctor examines you. 
Wait until you're evaluated by a medical professional before declaring there are no injuries. 
Avoid Saying This Is an Official Statement
There's no obligation to provide an official statement. All you need to do is set out your recollection of events. If you're unsure how to word your statement, consult a personal injury or crash attorney before completing the report. 
If you imply that the report is your official statement, and you later discover that you've made a mistake on the form, then you could be accused of making false statements which may invalidate your claim.  
Do Not Say You're Accepting an Offer
Chances are you don't have an offer from your insurance company yet. However, if you do, then don't accept it right away. Seek legal advice first. 
And when you're completing your report, don't imply that you're happy to accept the insurance company's first offer. It's probably going to be lower than you deserve. 
Avoid Making Assumptions
Stick with the facts – don't make assumptions. Otherwise, there's a chance the report could be misinterpreted, and you may be accused of lying on your accident report. 
It doesn't matter if your report is very short. Just include the details which you know to be true. If you're unsure what to write in a report, you can always consult an attorney for advice before submitting the document.  
Get Orlando, Florida Car Accident Reports
Do you need access to Orlando car accident reports today? We can help you get your claim moving. If you've filed a police report, we can get you a copy quickly and easily. All you need to do is complete a short application form and you will receive the report straight to your inbox.