Your Hassle Free Solution to Your Auto Accident Report
Learn how to acquire your auto accident report.
Orlando and surrounding counties of Brevard, Indian River, Orange and Seminole.

Your first step in documentation for filing an insurance claim is acquiring your accident report.
Begin that process here.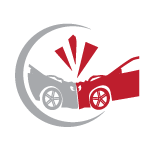 Discover how to get your accident report here
Your accident report is the first document you need to file a claim.
Why Is It Important To Get an Accident Report?
If you've been involved in a recent accident in Orlando, the accident report can be your number one ally. Not only will your insurance company use the accident report to determine who was at fault in that Orlando, FL accident, but the Orlando Police Department will also use the accident report to determine whether any crimes occurred and who was the offending party. If you can get your hands on that accident report or put it in the hands of your lawyer, it may even help protect your rights.
But the last thing on most people's minds after a recent accident is the paperwork associated with the accident. After all, you may be dealing with injuries and a trip to the emergency room, as well as an eventual trip to the mechanic for car repairs. The good news is that most accident reports in Orlando and across the state of Florida are completed by the investigating officer at the scene of the accident. Furthermore, the state mandates that accident reports are required for any accident that resulted in death or injury, if a party to the accident left the scene, if a vehicle involved was rendered inoperable, or if a commercial vehicle was involved.
In a typical Orlando accident report, details about the accident will be documented, such as where and when the accident occurred, descriptions of vehicles involved, names and contact information for each driver and passenger, as well as witnesses, if any, and the name and badge number of the officer that filled out the report. When an accident has occurred and a report has been generated, anyone involved in the accident can request a copy of the report, including insurance companies law enforcement agencies, victim services programs and the media. 
What To Do After an Accident
If you've been in a recent accident, it's important to obtain an Orlando accident report and meet with a lawyer to protect your legal rights. Insurance companies and other actors will likely try and get you to settle quickly, hoping that a quick cash award is enough to do the trick. But you could be leaving significant sums on the table, as well as potentially opening you up to legal liability. 
For these reasons and more, retaining a lawyer is one of the first steps after obtaining an Orlando accident report. Here at Auto Accident Report, we'll help you obtain your accident report and help protect your legal rights at each step of the way. Order your Orlando accident report or contact us today to get started.