Your Hassle Free Solution to Your Auto Accident Report
Learn how to acquire your auto accident report.
State of Nevada including counties of Clarke, Washoe and Lyon plus more.
Your first step in documentation for filing an insurance claim is acquiring your accident report.
Begin that process here.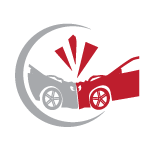 Discover how to get your accident report here
Your accident report is the first document you need to file a claim.
Traffic accidents are common in Clark County, Nevada. They happen every day on the roads and highways of this bustling city. A Clark County accident report can provide all the information you need to file a claim for an injury or damage done to property.
The most important things that will be contained in a report are who was at fault for the accident, what happened during it, how serious it was, and any other details that may have been pertinent to its occurrence.
Why Is it Important To Get A Clark County Accident Report?
Getting an accident report in Clark County helps get the facts straight about what happened, and provides you with information that can help prove your case if it goes to court.
As well, your Clark County accident report gives you all the details of the accident so you know how much compensation to ask for when filing a claim later on.
Accident reports are also used by law enforcement to determine who was at fault and may be subject to traffic violations.
What Information Can You Find On An Accident Report?
Any Clark County accident report or Las Vega accident report will include the following information:
Date, time and location of the accident

Names, addresses and contact information for all drivers involved in the accident

The driver's license number, state of issuance and expiration date for each driver

Vehicle registration numbers for all vehicles involved

Insurance company name, policy number and expiration date for each vehicle involved
This information is integral to understanding the circumstances surrounding an accident and will be required for filing a claim with your insurance company if you were injured or suffered damages as a result of another driver's carelessness.