Your Hassle Free Solution to Your Auto Accident Report
Learn how to acquire your auto accident report.
Harris County.

Your first step in documentation for filing an insurance claim is acquiring your accident report.
Begin that process here.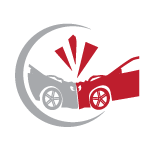 Discover how to get your accident report here
Your accident report is the first document you need to file a claim.
Why is an Accident Report Important?
Why is it essential to get a Harris County accident report?
A car accident report is a summary of the details surrounding a motor vehicle accident. The report includes vital information such as all the people and vehicles involved, the damage caused, and any eyewitness accounts. 
If you're involved in an accident in Harris County, getting an accident report will help you:
File a personal injury lawsuit

Claim insurance

Prove accident-related injuries
When would you need a Harris County accident report?
If you're involved in any type of accident. However, the procedure may differ depending on the extent of the damage caused. For example, if severe injuries (or death) occur or the damage to a vehicle is more than $500, an accident report is a must. Both parties must make sure to have everything documented by the police officer attending the scene before leaving.
How to Get Your Harris County Accident Report
Getting the accident documented at the scene is only part of the procedure required to obtain an accident report.
When you need to use your Harris County report, you have two options:
Getting your Harris County accident report online is the easiest way. You can do it from the comfort of your home and at a time most convenient to you. Simply fill in the form, and we'll help you get yours. We can also help connect you to a personal injury attorney in your area — free of charge.