Your Hassle Free Solution to Your Auto Accident Report
Learn how to acquire your auto accident report.
Bexar County including Bastrop, Caldwell, Calhoun, Colorado, Comal, DeWitt, Fayette, Goliad, Gonzales, Guadalupe, Hays, Jackson, Karnes, Lavaca, Lee, Matagorda, Victoria, Wharton and Wilson.

Your first step in documentation for filing an insurance claim is acquiring your accident report.
Begin that process here.
How do I get my Bastrop County accident report?
It's quick and easy to get a copy of your auto accident report. 
If you've been in an auto accident and you need a copy of your accident report for insurance purposes, you can request it here. It's easy to obtain an accident report for Bastrop County, Bexar County, or any of the surrounding counties, including:
Caldwell County 

Calhoun County 

Colorado County 

Comal County 

DeWitt County 

Fayette County 

Goliad County 

Gonzales County 

Guadalupe County 

Hays County 

Jackson County 

Karnes County 

Lavaca County 

Lee County 

Matagorda County 

Victoria County 

Wharton County

Wilson County
The first step in  filing an insurance claim is obtaining a copy of your accident report.
Whether you were directly involved in the auto accident, or you're a member of the injured party's family, you can begin the insurance process by requesting an accident report. 
Why do I need an auto accident report?
Auto accident reports help insurance providers establish responsibility for traffic accidents, so those involved in the crash can receive compensation for property damage and personal injury. The information in the accident report provides your insurance company with the details of the accident so they can process your claim. 
What does a Bastrop County or Bexar County accident report contain?
In the state of Texas, auto accident reports are filed in the county where the crash took place. These reports include an account of the accident, as reported by the police officer who responded to the scene of the accident. They also include details like the date, time, location, road conditions, and driving conditions. Along with these details, your insurance provider will look at important findings in the report, which typically include statements about how the accident occurred, who was driving, damage to the vehicles, and any injuries.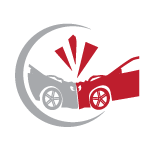 Discover how to get your accident report
Your accident report is the first document you start  an insurance claim.