No matter how careful you are, accidents happen. If you have a "fender bender", you might be unsure if you need to report the incident or not. Below, we explain whether fender benders must be reported in CA, and how to obtain a copy of your accident report.
What Is a "Fender Bender"?
A "fender bender" is a minor car accident. It usually involves two vehicles colliding at low speed.
The vehicle damage is minimal, meaning you can keep driving. Damage includes small dents, scratches, and damaged paintwork.
There's either no injuries or they are very minor.
Examples of fender benders include:
Bumping another car in a parking lot
Reversing into another vehicle
Rear-end collisions at stop signs and traffic lights
Fender benders are extremely common, especially in busy areas like California.
What Is an Accident Report?
An accident report is a document prepared by law enforcement. It sets out what happened to cause a crash and includes the details of the vehicles involved.
In CA, either the local police department or California Highway Patrol (CHP) write up the report.
Local police attend accidents within their patrol area.
CHP may attend if the accident happens on a highway or in an unincorporated area.
Usually, local police attend fender benders because these accidents are more common in built-up areas.
What Does a Car Accident Police Report in California Contain?
The document is a report of a traffic accident occurring in California. It contains crucial information such as:
Date and time of the accident
Accident location
Name(s) of driver(s) involved
Car details e.g. make, model, year
Insurance details
Injury information
An accident report also indicates who caused the fender bender. In other words, the officer determines who is at fault.
Do I Need to File an Accident Report in California?
California has laws regarding when you need to report a car crash. You must report a crash, and get an accident report, if:
What does this mean for fender benders, though? Technically, you don't need to report every accident, such as a very minor scratch or dent. However, just because you don't need a crash report doesn't mean you shouldn't get one. Reporting a fender bender can save you time, money, and legal consequences down the line.
Who Do I Report a Fender Bender to in California?
Err on the side of caution – here are some guidelines to follow.
Is anyone hurt? Contact law enforcement, even for seemingly minor wounds. Some injuries can take time to manifest.
Is there property damage? It's hard to value property damage at the scene. Call law enforcement.
You should also report the crash to the DMV.
How Long Do I Have to Report a Fender Bender in California?
Usually, if anyone is hurt or killed, you have 24 hours to report the incident to law enforcement. Since fender benders don't normally result in serious damage, this time limit doesn't apply.
However, if there are any injuries at all, even minor ones, you must report the crash to the DMV. You have 10 days from the accident date to file a report. Complete the SR-1 Form, "Report of Traffic Accident Occurring in California".
In short, you have a maximum of 10 days to report fender benders to the DMV.
When You Need a Police Report for Car Accidents in California
To clarify, you don't always need a police report for CA car accidents. If the accident is very minor and there are no injuries whatsoever, you don't need a report. However, it's always a good idea to report the incident rather than be accused of leaving the scene.
If officers don't need to write up a formal report, they will explain this to you.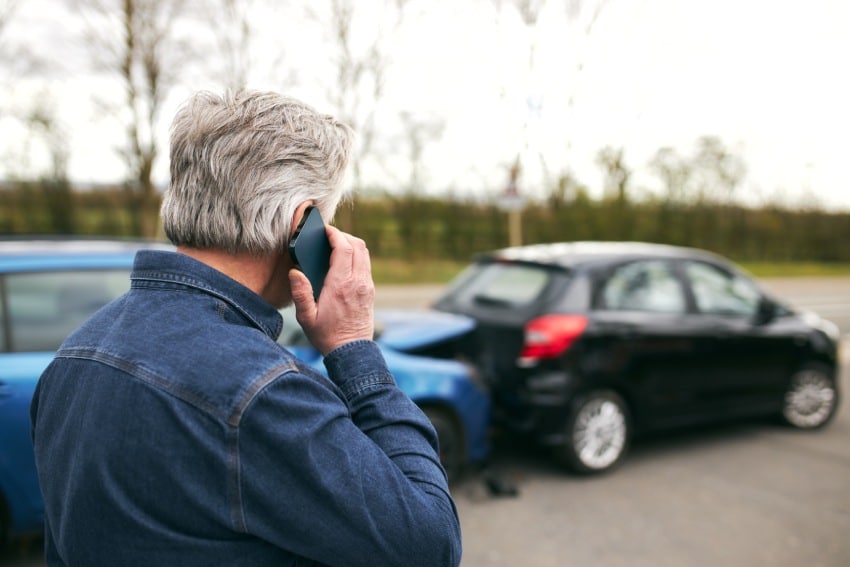 What Happens if I Don't Report a Fender Bender to the DMV?
If you don't report an accident when required, the DMV can suspend your license. So, even a fender bender can result in a serious penalty if you don't report it when necessary.
Although fender benders don't normally cause serious injuries, remember you might need a police report. If, for example, you don't report a crash to law enforcement when required, you could face criminal penalties e.g. fines.
How Can an Accident Report Help Me?
Accident reports are invaluable – even for fender benders. Here's why.
California is a "fault" state. The person who caused a crash is responsible for compensating the other party. Usually, this means that the negligent driver's insurance policy covers the other party's losses.
Your accident report sets out who caused the crash. The attending officer makes this judgment based on the evidence at the scene. Insurance companies and personal injury lawyers use this information to decide how to settle claims. The report, then, can significantly speed up the claims process.
Do I Need a Crash Report for an Insurance Claim?
Often the answer is yes. Even if you don't need a crash report, your insurance company might expect you to have one. This is another reason why it's best just to report all collisions – even seemingly minor fender benders.
How Do I Get a Copy of an Accident Report in California?
You have a few options, depending on which officers attended the scene.
California Highway Patrol (CHP): You can get a CHP collision report by completing a CHP request form.
Local police department: If local police officers attended the accident, contact the relevant police department to request your report.
If you already have a car accident lawyer, they can get a copy for you.
Not sure who to contact? For quick access to your crash report, contact Accident Records. We can connect you with the right attorneys in our network who will be able to help!
How Long Does it Take to Get a California Police Report?
It might take a few days to get a copy of your police report. In some cases, it takes a few weeks. It all depends on the complexity of the report and which law enforcement agency handled the matter.
The Accident Records team will do everything we can to obtain a copy of your report as quickly as possible.
California Accident Report Lookup
Do you need an accident report in California? Contact Accident Records. Our team knows how to find California crash reports quickly and efficiently – we only need a few details. And, if you need legal or medical advice, we can match you with an attorney or medical professional.
For a free copy of your accident report delivered to your inbox, complete our contact form. Get your accident report today!