Your Hassle Free Solution to Your Auto Accident Report
Learn how to acquire your auto accident report.
Los Angeles County excluding Los Angeles City.
Your first step in documentation for filing an insurance claim is acquiring your accident report.
Begin that process here.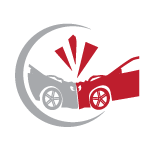 Discover how to get your accident report here
Your accident report is the first document you need to file a claim.
Los Angeles County Accident Reports
According to several sources, more than 50,000 people are injured in Los Angeles County car accidents every year. Yes, this is a county whose population is over 10 million people, but that still equates to 137 injury crashes every day, or nearly one every 10 minutes of every day of the year. That's quite a number, and what it means is that every day, more than 100 people on average need to obtain access to a Los Angeles traffic accident report.
Unfortunately, there are no directions handed to people who have been involved in a crash that help them locate and secure their Los Angeles traffic accident report. That's unfortunate for several reasons, first because any insurance claim is going to require this documentation, and any pursuit of legal remedies will also necessitate such a report. Without it, matters cannot move forward effectively.
Thankfully, you've found a team of professionals who are here to help guide you towards locating your Los Angeles traffic accident report. If your crash occurred in the county but not within the jurisdiction of the City of Los Angeles, you're only a few clicks away from getting what you need. We'll help you find your report, even though we don't deliver it directly to you. This will save you countless hours of headaches and stress.
In addition, we can also connect you with a licensed attorney if you need to discuss the legal ramifications of your situation. Don't waste time – get started today so you can defend your legal rights properly.